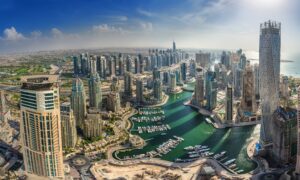 The jaw-dropping progress that Dubai has seen since its so-called "oil era" is indeed impressive. It demonstrates that a world-class tourism destination can still take hold in the modern era as infrastructure is built up. The United Arab Emirates destination along the Persian Gulf can serve as a warm-weather escape or bucket list essential for globe-trotters. With this in mind, Lifestyle Holiday Vacations recently entered into an agreement with Al Habtoor Group that saw the former expand its portfolio thanks to the latter's existing offerings. It's truly the best of both worlds for both groups – and it's a win-win for Lifestyle Holiday Vacations shareholders, members and VIPs.
The network that Al Habtoor Group already operated in Dubai was impressive to say the least: 14 world-class hotels as well as Al Habtoor City, which is a leisure and residential destination in Dubai. The amenities that these structures offer are also impossible to beat when searching for a local hotel. World-class restaurants and bars and complemented by around-the-clock gyms and countless entertainment options for guests of all ages. It's easy to see why Lifestyle Holiday Vacations counts this freshly-inked deal as a "win."
"Lifestyle Holiday Vacations is continuing to grow its brand footprint in the hospitality industry by expanding into the highly luxurious destination of Dubai, which entertains millions of international travelers each year," the company's president said in 2019. More specifically, the deal will see the brand add resorts to the offerings that members can select from when traveling. The deal also solidifies the brand's global reach within "choice" cities and ensures both current and future members will be able to enjoy the ultimate in vacation experiences. It's the amenities that are going to help make this happen, and they are worth mentioning here: private balconies, beachfront views, snorkeling trips, illuminated tennis courts, polo academies, golf courses, spas, rooftop swimming pools, shuttle services, fitness centers and so much more.
"We are excited at the potential that such an exotic location offers our LHVC members," Lifestyle Holiday Vacation's president added in a mid-2019 statement. "This exciting new deal allows LHVC to become one of Dubai's premier high-end destinations continuing our promise of the ultimate experience in premier amenities and services." Those who've always wanted to travel to a destination unlike where they reside are encouraged to research Dubai and experience first-hand the attractions that currently await.